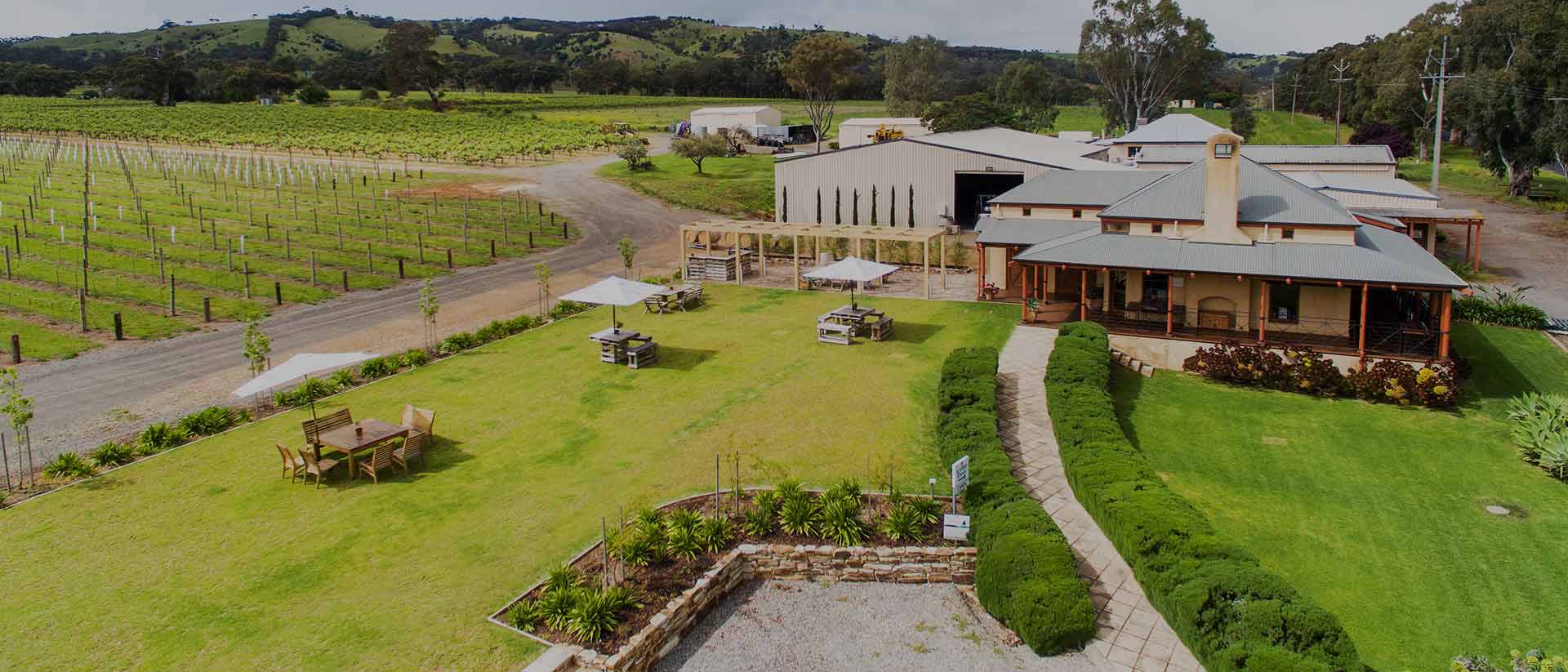 VISIT US
The Hugo family invite you to our charming architecturally designed cellar door with its' landscaped surrounds overlooking the vineyards and coastline.

THE CELLAR DOOR


Enjoy a guided tasting of the Hugo Estate Wines with our passionate family and staff.
CELLAR DOOR
OPENING HOURS
 TASTINGS 11am – 4pm (Daily)
PLATTERS 12 – 2pm (Daily)
Enjoy a guided tasting of 9 Hugo Wines while enjoying the panoramic views of the Hugo Vineyards
Please allow 50 minutes for this tasting
There is a $10 per person tasting fee (payable at the end of the tasting) which includes a guided tasting through 8 of Hugo Wines Estate grown Wines. The tasting fee is redeemable on purchase. (If you purchase a bottle your tasting fee is waived). Booking is strongly encouraged to avoid disappointment.
The 9 wines you will be guided through in the seated tasting are
Cuvee (Sparkling)
Sauvignon Blanc
Chardonnay
Grenache
Grenache/Shiraz
Shiraz/Cabernet Blend
Shiraz
Cabernet Sauvignon
Menu
Ellis Butcher Ham
Adelaide Hills Salami
Andy Clappis toasted bread
Coriole Chefs Selection Olives
Alexandrina Cheese – Vintage Mature Cheddar
Camenbert
Mini pickled cucumbers
Spice Girlz – Jamato Relish
Baylies Crackers
Price: $49
ADD ON OPTIONS:
+ add dried fruits – $4
+ add Willunga roasted sea salt almonds – $5
+ add Alexandrina Cheese Goiuda With Caraway Seed  $6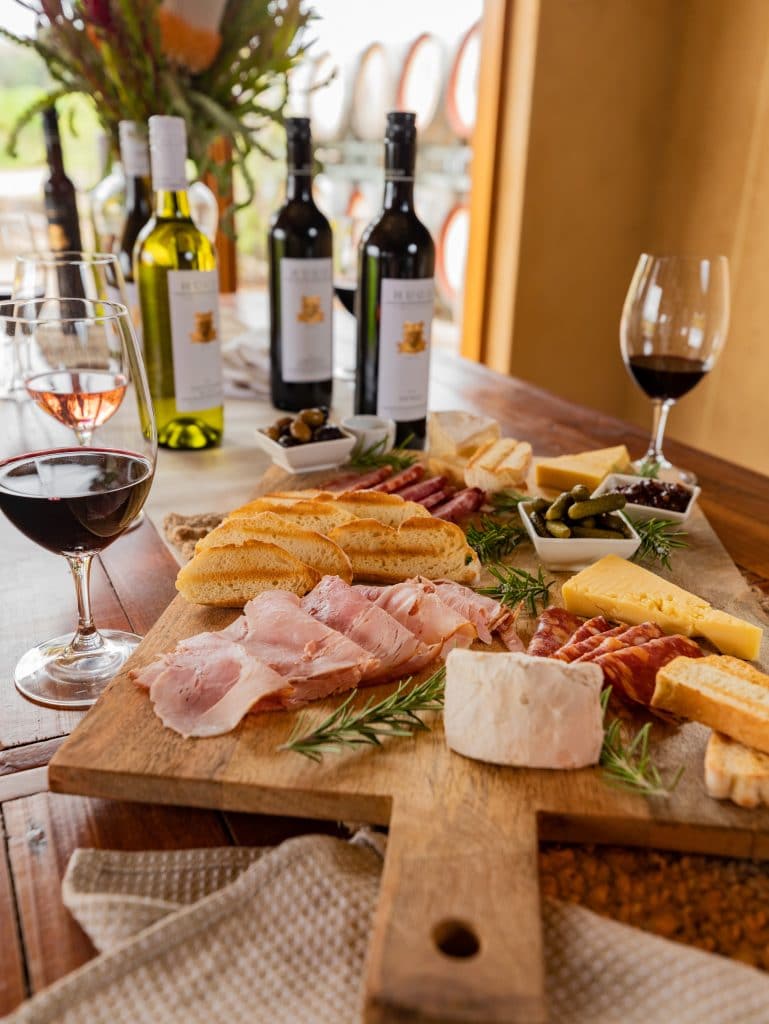 GROUP BOOKINGS
 Groups over 6 people are required to complete the Group Booking Form
Coriole Chefs Selection Olives
Alexandrina Cheese – Vintage Mature Cheddar
Alexandrina Cheese – Gouda with Caraway Seed
Camenbert
Spice Girlz – Jamato Relish
Baylies Crackers
Willunga – Sea Salt roasted almonds
Quince paste
Price: $37
ADD ON Options:
+ Add Olive tapenade – $5
+ Add Dried Fruits $4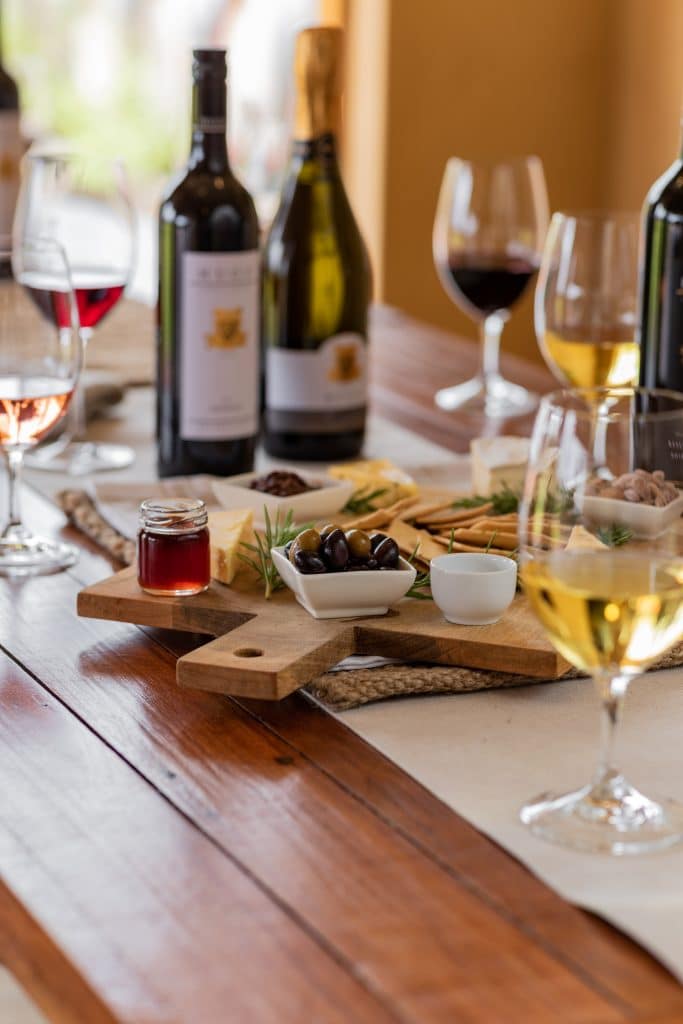 DRINKS
Rock in a hard Place (Adelaide Hills) Sparkling water 375ml $4.5 750ml $8.5
Mount fresh (Mount Compass) Juices, 300ml Apple/ Orange $4
Bickfords Traditional Soda 275ml
Classic Cola $4.5
Ginger Beer $4.5
Lemon Lime & Bitters $4.5
Our cellar door is family friendly with a number of children's entertainment from outside toys & lawn to inside colouring in.
We look forward to welcoming you at your next visit!
We tasted this wine on the Gold Coast and then went to the cellar for tasting. We were again treated to wonderful service from one of the sons. The wine is truly delightful. We were so pleased with the individual service and the wonderful wine.
- Ann H
0
We visited the cellar door for a tasting while in the area to celebrate a family birthday. Beautiful premises, and we appreciated that the knowledgeable and friendly staff didn't assume we had any prior knowledge about wine or the wine making process. They were able to give just the right amount of information about the history of the business and the wines themselves. We were so impressed that we brought 3 bottles home with us. Definitely worth a visit!
- Jorja D
0
We had a lovely wine tasting here. The family were very warm and welcoming, really enjoyed hearing about the history. A great spot to visit and would visit again for sure. One of our favourites.
 - KevLinda
0